HRCH UH Samson's Surprise Poison Ivy MH ("Ivy")

Female 5/13/09
OFA Hips: LR-194641G27F-VPI (Good)
OFA Elbows: LR-EL52291F27-VPI (Normal)
EIC: clear by parentage
CNM: clear by parentage
Yellow Factored
AKC: SR56264601
UKC: R209-029

Ivy is a dog owners dream! She has perfect confirmation and a great team player. She was completely amateur trained and received her HRCH title at 26 months old. Ivy made it to the 5th series in the 2016 Master National. When not hunting or training, Ivy lives in the house and is an affectionate member of our family.
HRCH Michigander's Thrilla in Manila MH ("Laila")

Female 1/4/13
OFA Hips: LR-213278E25F-VPI (Excellent)
OFA Elbows: LR-EL66729F25-VPI (Normal)
EIC: Clear
CNM: Clear by parentage
AKC: SR76310404
UKC: R237-841

Laila is a loveable ball of energy at just 2 years old. She impressed the gallery in the spring of 2013 when she passed a Started test at only 4 months and 6 days old. She has drive like no other and amazing marking abilities for such a young gal. She earned her Finished Title at just 20 months in the fall of 2014. Laila qualified for the 2016 Master National and made it to 6th Series. Laila's sire is FC AFC "Ali.?Her dam is a QAA daughter out of FC AFC "Shaq?
HRCH Michigander's Hot Lips Houlihan SH ("Margo")

Female 1/5/14
OFA Hips: LR-219231G25F-VPI (Good)
OFA Elbows: LR-EL71634F25-VPI (Normal)
EIC: Clear
CNM: Clear by parentage
Yellow Factored
AKC: SR80739404
UKC: R243-101

Margo is a true Michigander girl being a Sarge/Ivy daughter. She earned her Started title in the summer of 2014 and was handled by our 9 year-old son, Kenny. Margo has the sweet personality of her mother and the drive and enthusiasm of her father. Margo earned her HRCH and Senior Hunter titles in the 2016 hunt test season. She also has 1 pass toward her Master Hunter title and will complete title in 2017.
HRCH Landover's Blake of Laubenhaid Acres MH

Male 7/18/2009
OFA Hips: LR-200119E38M-NOPI (Excellent)
OFA Elbows: LR-EL56385M38-NOPI (Normal)
EIC: Clear
CNM: Clear
Yellow Factored
AKC: SR57527602
UKC: R215-784

Blake is a very hard driving, athletic, intense retriever who loves to work and has super marking ability. A pleasure to run and handle. He comes from a phenomenal pedigree, and went 6-6 in Finished tests to complete his HRCH title. Multiple QUALIFYING 4th placements. Passed 2016 Master National. Check him out!

Our Dogs _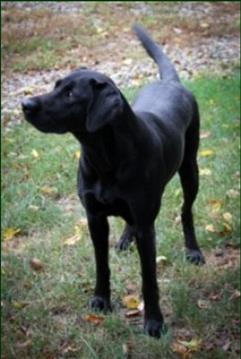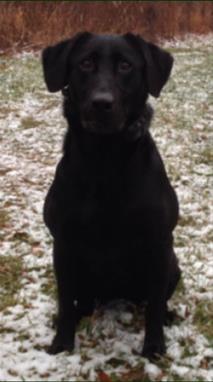 Road Warriors Flying Solo QA2 ("Ellie")

Female 10/17/08
OFA Hips: LR-199087G44F-VPI (Good)
OFA Elbows: LR-EL55600F44-VPI (Normal)
EIC: Clear by parentage
AKC: SR53176905
Derby Points: 3

Ellie had 3 derby points in limited trials and continued on to become QAA. She is incredibly consistent placing or jamming in 45% of the qualifying stakes she entered. When campaigning she is one of the most exciting dogs to watch run and consistently gets comments on her style and marking. At home, if she's not playing with one of our children, she's laying quietly by my chair.
Michigander's Rumble Rousey ("Ronda")

Female 7/25/15
OFA Hips: NA
OFA Elbows: NA
EIC: Clear
CNM: Clear by parentage
Yellow Factored
AKC: SR89207504
UKC: 263-412

Ronda is the spunky daughter of our very own Road Warrior's Flying Solo QAA "Ellie." Combined with Lane's Let Get Ready to Rumble (FC AFC Ali) on the sire side, she is dynamic in personality and drive. She is smaller in stature but solid in muscle. She will work on her Seasoned/Senior Titles in the spring of 2017.